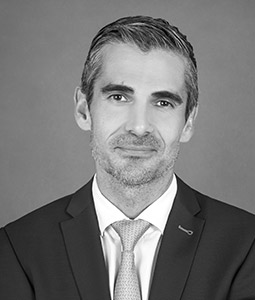 ---
Education:
– Degree in Law (UIB): extraordinary prize.
– Master in International Financial Criminal Law (UGr.): outstanding.
– Ph.D in Procedural Law (Complutense University of Madrid):unanimously rated cum laude and extraordinary doctoral award.
Jaime has extensive experience in defending and prosecuting high-profile criminal cases, especially involving white-collar crime.
He has successfully litigated in many of the most notable cases of fraud and corruption in Spain, including the defence of well-known figures accused of complex international money laundering and embezzlement.
Jaime has successfully lodged appeals to the Supreme and Constitutional Courts, and is a specialist in jury trials.
He has deep experience in Extradition cases and preparing legal opinions before international Courts on extradition and improperly obtained evidence.
Jaime is also associate professor in procedural and criminal law (UIB).
His doctrinal articles have been published in specialist legal journals both in Spain and abroad. He has written five books on criminal procedure:
• Confession after improperly obtained evidence. Thomson Reuters-Aranzadi (2015);
• Fast-track criminal proceedings. Reus (2016);
• Criminally obtained evidence by private individuals. From the Falciani list to Nadine Heredia´s diaries. A&G Ediciones (2018);
• Open Justice and reporting restrictions in the information society. Dykinson (2019).
• Confession after improperly obtained evidence. Thomson Reuters-Aranzadi (2015 and 2021).
Jaime is a frequent speaker at conferences and congresses on procedural and criminal law both in Spain and abroad, and is a tutor to trainee judges, prosecutors and lawyers.
In October 2023 he was invited by the American Bar Association to participate as a speaker on Extradition at the ABA Criminal Justice Section – Eleventh White Collar Crime Institute in London.
In 2021 Dr. Jaime Campaner, along with four other Spanish lawyers, was chosen to participate in EULAW project, co-financed by the European Union Justice Programme, which aimed at training legal practitioners in Council Regulation (EU) 2017/1939 of 12 October 2017 implementing enhanced cooperation on the establishment of the European Public Prosecutor's Office ('the EPPO'), and has received specific training in international institutions, such as the University of Luxembourg, and is now qualified to train national practitioners in EPPO. To this end in 2022 he gave two seminars in the Spanish National Bar Association on Council Regulation 2017/1939 and Spanish Organic Law 9/2021, governing the application of such European Regulation.
---
"He has a surgeon´s precision and is unbeatable at Court" (Última Hora)
"It was a top-notch pleading. Schematic and rigorous with a light spicy
dressing. Beluga caviar in a mother-of- pearl spoon" (CTXT)
"Brilliant" (Diario de Mallorca)
"Meticulous, disciplined, practical and coolheaded" (Vanity Fair Spain)
"Campaner, an elegant man in his late thirties, speaks polished English. He is regarded as one of the shrewdest lawyers in Spain." (Der Spiegel)
"Acclaimed" (Daily Record)